Every vacation is special because of all the factors that combine it into one unforgettable experience . You will definitely remember your vacation in Istria because of its natural beauty, rich history, superb gastronomy and the people's hospitality.
But another factor that has a great impact on vacation is accommodation. In order for your vacation to remain in the best memories, it is important that you find the perfect accommodation according to your wishes.
To make it easier for you, below we have narrowed down the selection of our best luxury villas in Istria, where you will enjoy every minute of your vacation.
VILLA MAKO
Villa Mako is a newly built luxury holiday home with a private pool. The villa is located in the small village of Sikici, which is only 3 km from Pula – one of the most visited cities in Istria. The yard is completely fenced and has an enchanting swimming pool and jacuzzi. This beautiful vacation home has 3 bedrooms and 4 bathrooms. On the ground floor there is an open living room, a bathroom with a shower, a bedroom with a private bathroom, a kitchen and a dining table. The bedroom on the ground floor and the beautiful living room have direct access to the pool. Upstairs there are two bedrooms that also have their own bathrooms. Each bedroom has air conditioning, TV and a terrace.
Villa Mako is your perfect choice for accommodation during your stay in Istria if you are looking for a luxurious holiday home away from the big tourist crowds, yet not far from the city and beautiful beaches.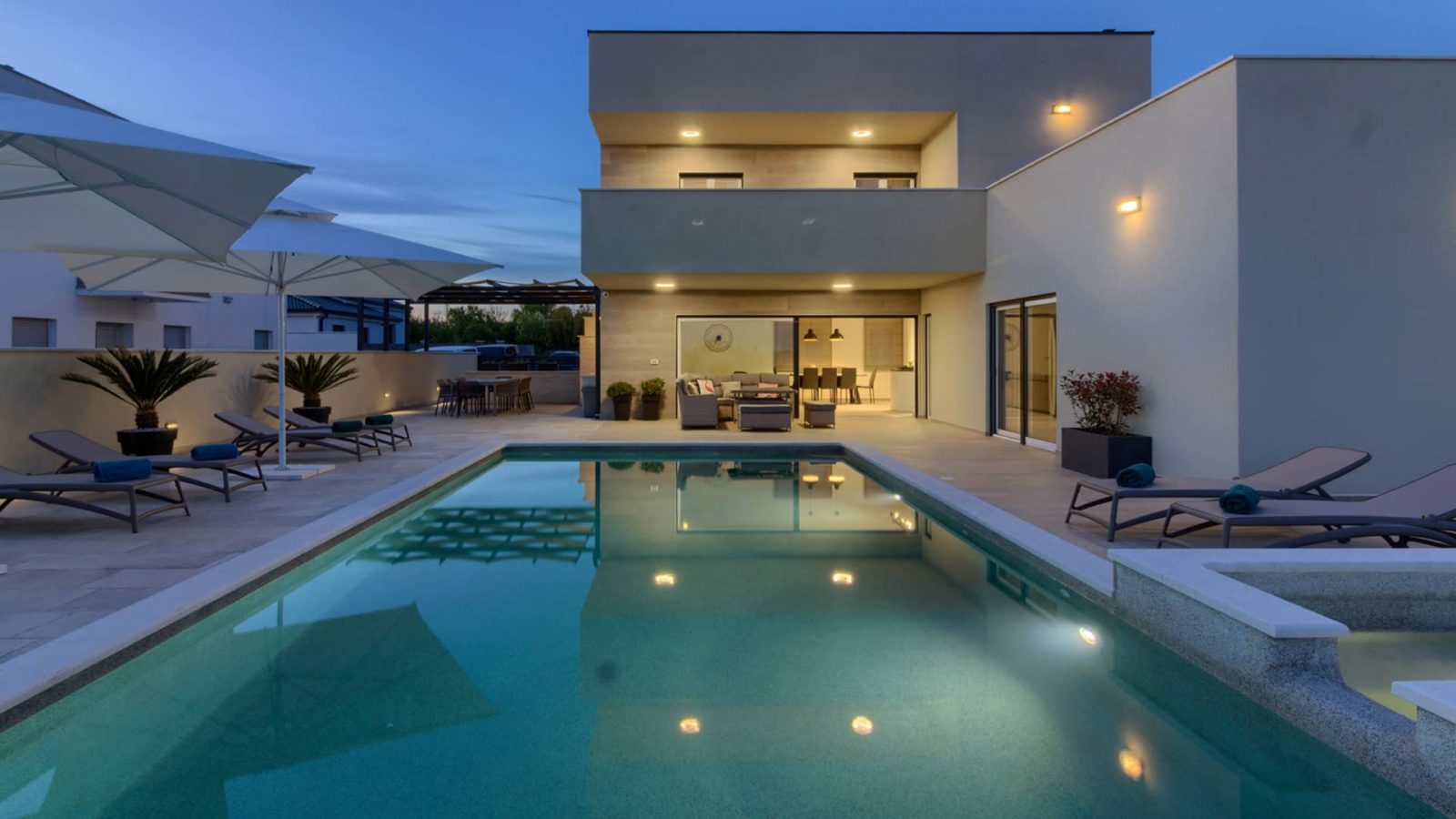 VILLA TABOO & SPA
Villa Taboo & Spa is an enchanting holiday home with private pool, jacuzzi and whirlpool located in Medulin. Medulin is a small fishing village that has developed into a desirable tourist destination, and is located a little outside the city, far from the crowds. The villa also has an indoor jacuzzi and sauna. The house has 4 bedrooms, 5 bathrooms, a large kitchen, a stunning living room and a relaxation room. Each bedroom has air conditioning and television. The yard is completely fenced and has an infinity pool, swing, sunbeds and private parking. The beautiful terrace offers a view of the pool and the nature surrounding the villa.
Villa Taboo & Spa is an ideal choice for families or larger groups of visitors who want to have fun and relax with all the possibilities that this magical villa offers.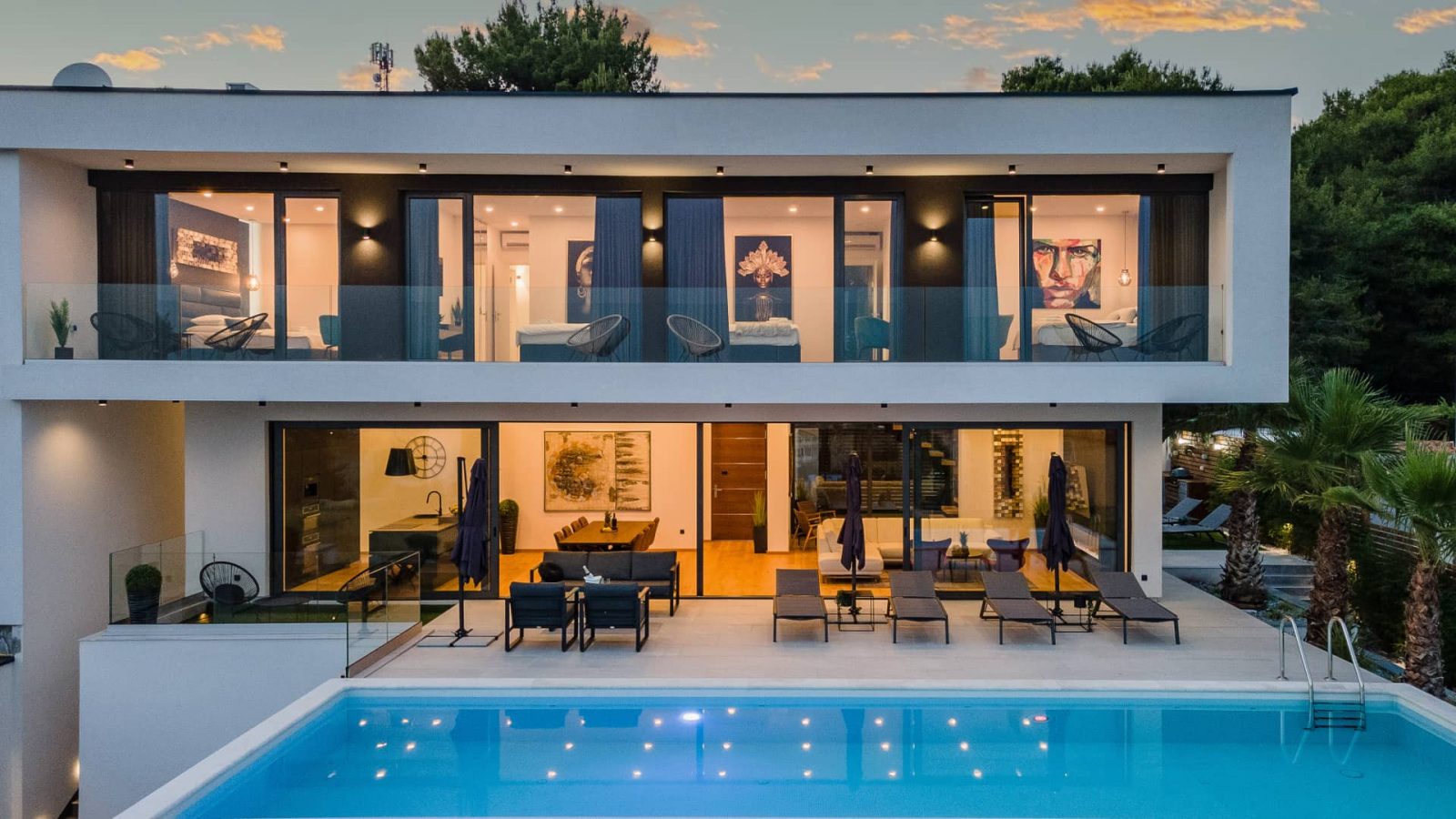 VILLA MAELL
Sisan is a charming little place near Pula where Villa Maell is located. Villa Maell is a stunning luxury holiday home with a private pool surrounded by greenery. The house is located in a beautiful position that guarantees you relaxation away from the large tourist crowds. Villa Maell consists of 4 rooms, and each room has a private bathroom, air conditioning and television. The spacious living room and kitchen have direct access to the pool. The villa is fully air-conditioned and also has a floor heating system. The house has a beautiful yard with a private pool and deck chairs that promise you peace and relaxation during your stay in the villa. Also, in the yard there is a private parking lot, a children's playground, a trampoline and a awning with a barbecue and a spacious dining table.
If you are looking for a modern villa with a private pool, Villa Maell is the choice for you! The various possibilities offered by this beautiful holiday home will satisfy all your needs.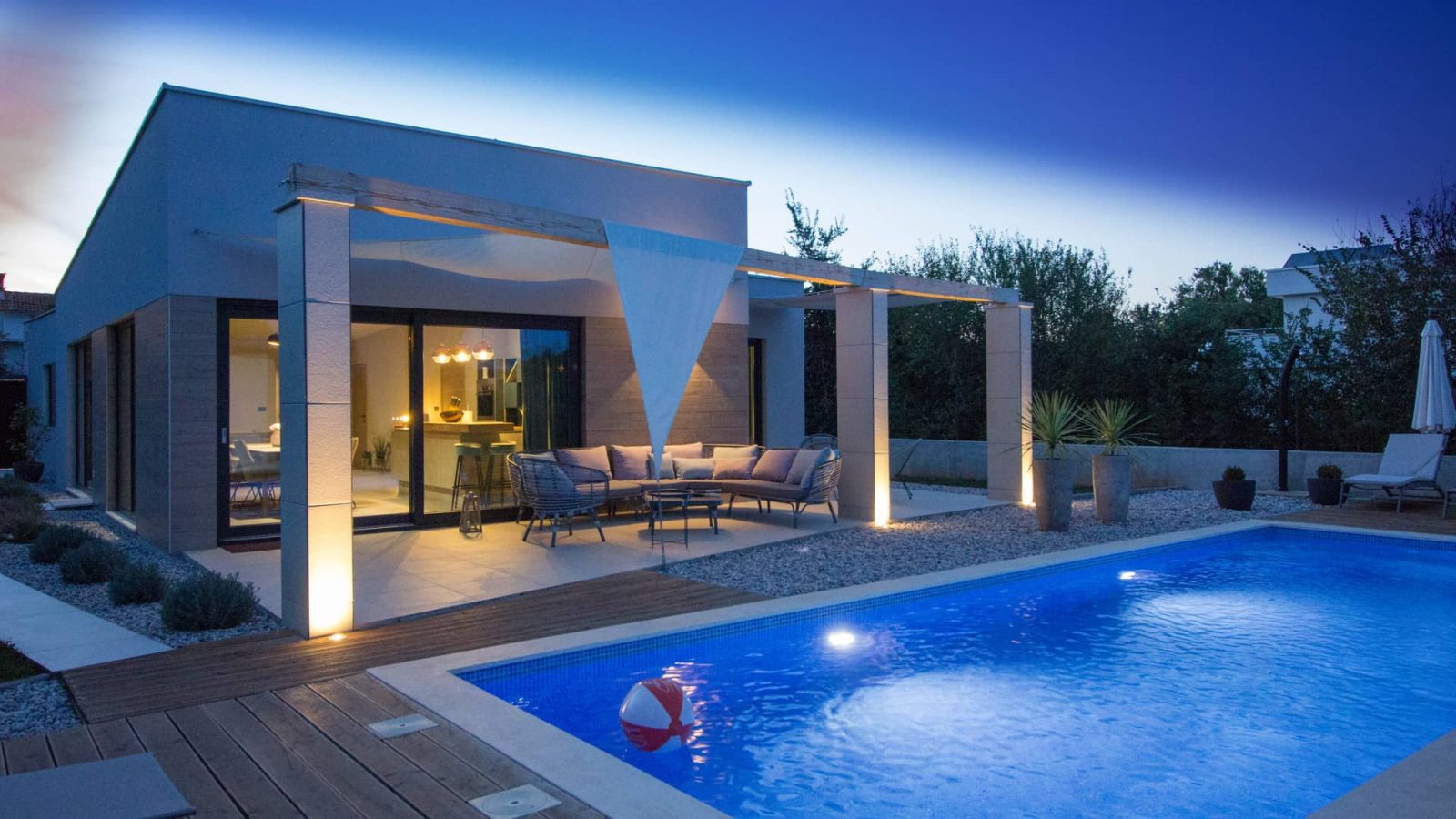 VILLA ELEVEN
Beautiful Villa Eleven with a private pool is located only 8 km from Rovinj. This unique vacation home consists of 4 bedrooms, two of which have their own bathrooms, and the others share one large bathroom with shower and bathtub. All bedrooms are equipped with air conditioning and TV. The interior of the villa is in a contemporary style. Large floor-to-ceiling windows offer a view of the beautiful surroundings, given that the house is surrounded by nature. There is an enchanting 10-meter swimming pool in the yard, next to which there are deckchairs that promise you rest during your stay.
Villa Eleven is a unique vacation home, and if you decide that it will be your accommodation during your vacation, we guarantee that you will not regret it!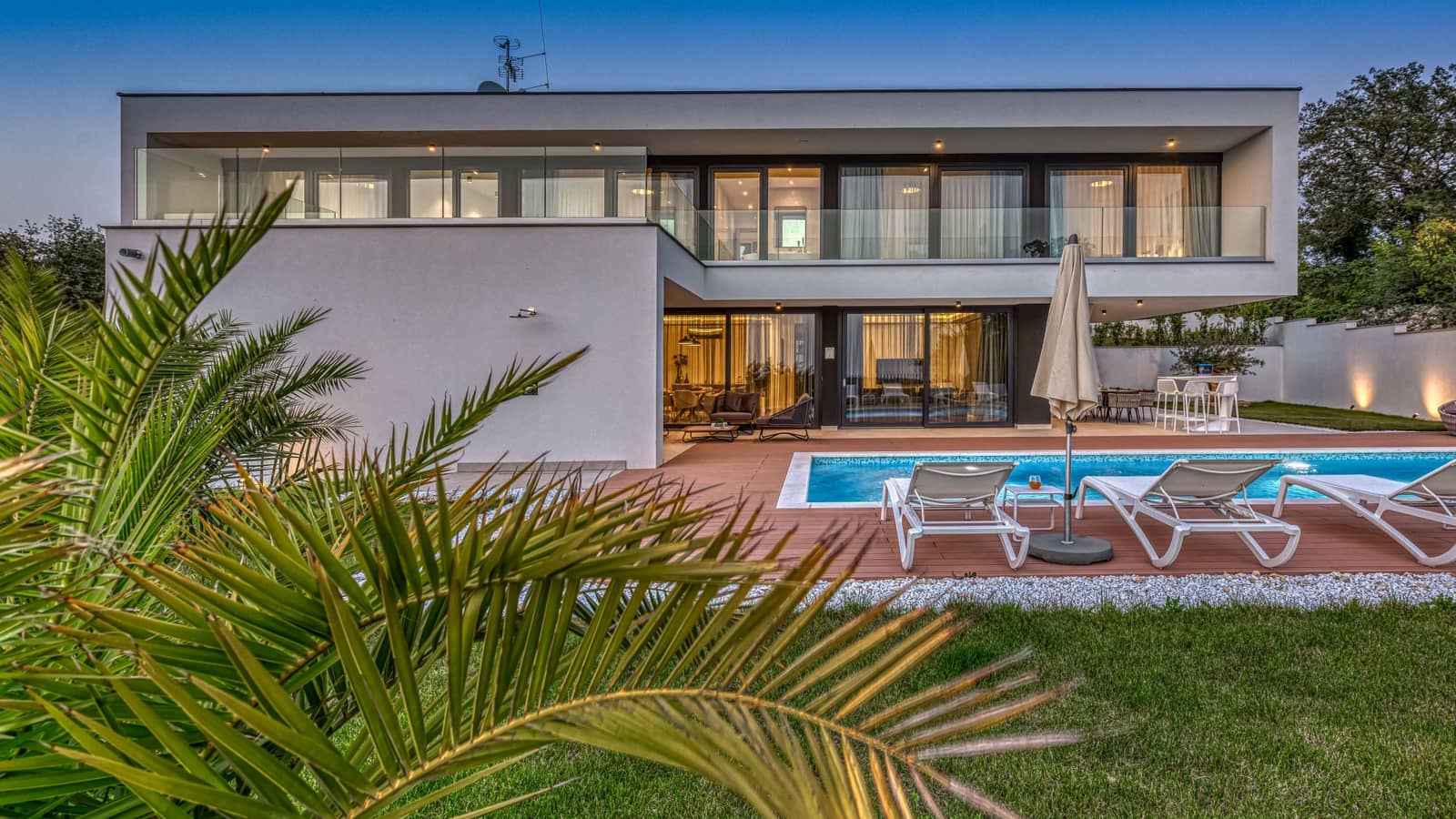 VILLA GIMINO
Villa Gimino is a beautiful holiday home with a private pool located in a small town near Zminj. The house is decorated in a traditional style. Villa Gimino reminds of houses from movies, sunlight illuminates the whole house and in front of the house, there is a swimming pool in a spacious garden with scattered olive trees. The house has 4 bedrooms with private bathrooms and the master bedroom has a private covered veranda. The dining room, kitchen, spacious living room and additional bathrooms are located on the ground floor. In the yard there is also a covered terrace with a barbecue and a fireplace and a spacious table where you can spend beautiful summer evenings with your loved ones.
If during your visit to Istria you want to stay in a house that will complete the entire experience and amaze you with all the beauty and possibilities it offers, then Villa Gimino is definitely it!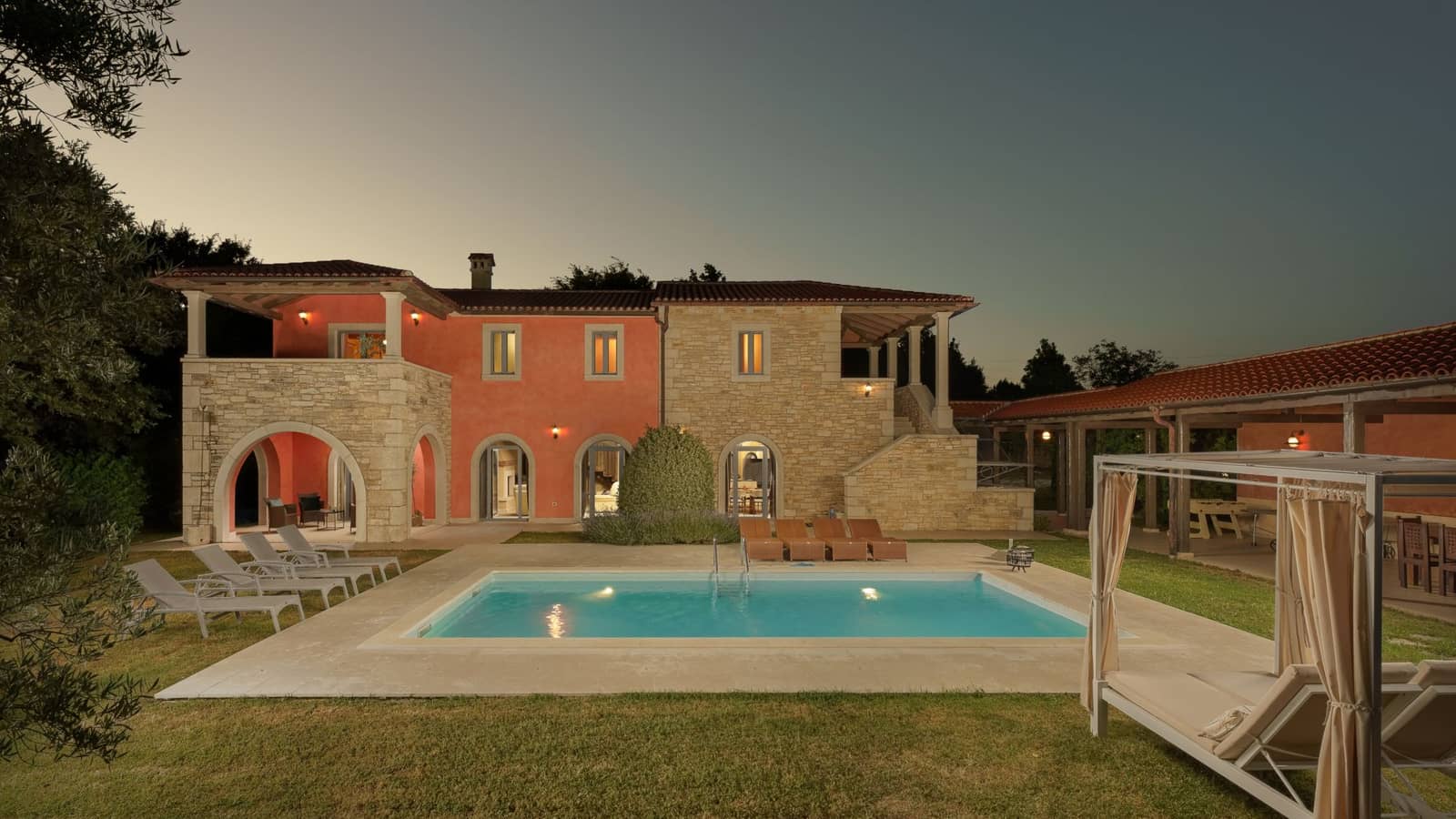 Conclusion
Istria is a beautiful region with a rich history, stunning natural beauty, and delicious cuisine, making it a top vacation destination. Finding the perfect accommodation is key to enjoying a memorable vacation, and these luxury villas in Istria offer the perfect combination of comfort, style, and privacy. Whether you're traveling with family, friends, or on a romantic getaway, these villas provide everything you need to make your stay in Istria unforgettable.
FAQs
Q: What amenities do the luxury villas in Istria offer?
A: Each villa is unique and offers different amenities, but some common features include a private pool, air conditioning, TV, private parking, outdoor seating areas, and fully equipped kitchens.
Q: Are the luxury villas in Istria family-friendly?
A: Yes, many of these villas are ideal for families, offering amenities such as children's playgrounds, trampolines, and spacious living areas.
Q: What is the location of the luxury villas in Istria?
A: The villas are located in different parts of Istria, but all offer easy access to nearby cities and attractions. Some are located in small villages or towns, while others are in more secluded areas surrounded by nature.
Q: How do I book a luxury villa in Istria?
A: You can visit the individual villa websites linked in the text or use a trusted vacation rental website to book your stay.
Q: Are the luxury villas in Istria affordable?
A: Luxury villas tend to be more expensive than other types of accommodations, but the cost varies depending on the villa and the time of year you're visiting. It's always a good idea to check for discounts or special offers before booking.