Digital nomad has become a popular term in the last few years. But to begin with, what would it mean to be a digital nomad? Namely, digital nomads are employees or entrepreneurs who have the opportunity to do their work from any part of the world with the help of digital technologies. All you need to do is a fast internet connection and a laptop. This type of work is mostly chosen by young people who do not want to be tied to an office desk, and earn money while traveling and getting to know new people, cultures and cuisines.
The occupations that digital nomads are engaged in are varied, and translators, website managers, web designers, graphic designers and the like are just a few examples.
An increasing number of people recently choose this type of profession for reason that they want to travel and see different parts of the world and have flexible working hours and various other benefits that this type of work provides.
Most digital nomads opt for exotic locations with a rich history such as Spain, Mexico, Portugal, Thailand and the like. But recently, Croatia has also become recognized as a perfect destination for digital nomads. An increasing number of digital nomads have seen all the advantages that this beautiful little country has to offer.
Why Croatia?
In recent years, Croatia has become very popular among digital nomads, and an increasing number of digital nomads are choosing it as their destination.
Natural beauty, rich culture and history, and the hospitality of the population are just some of the benefits that Croatia offers. Since 2021, Croatia has introduced a visa for digital nomads, which greatly facilitates their stay. Also, there is very little paperwork, which is one of the big advantages.
What are some of the biggest advantages that Croatia offers to digital nomads?
Acceptable living costs – compared to other Western countries, Croatia is much cheaper compared to them. Lower prices for accommodation, groceries, going to restaurants, etc. play a big role in the choice of Croatia as a destination by digital nomads.
Fast Internet – this is one of the key conditions for performing this type of work. Croatia has relatively fast internet and it is available almost everywhere.
Ideal climate – Croatia is known for its very favorable Mediterranean climate, so you will enjoy high temperatures in the summer, and mild and sunny winters.
Transportation – although Croatia is not as well connected as some larger western countries, you can still get anywhere you need to go by public transportation, and the price of transportation is very affordable.
Another big reason for choosing Croatia as a destination is that when you are not working, you certainly have a lot to see and experience, which is also one of the primary reasons for choosing this type of profession. Croatia is known as a country with a rich history, excellent gastronomy and immense natural beauty.
During your stay, you must definitely try some of the gastronomic specialties of this enchanting country, such as Zagorje strukli, fuzi with truffles, prosciutto, kulen, etc.
Also, in order to witness the rich history and see the extraordinary architecture, we suggest you visit various cultural monuments and places that are under UNESCO protection to tell you the story of some past times. Some of the most popular monuments are the Diocletian's Palace in Split, the Arena in Pula, the Euphrasian Basilica in Poreč, the Knin Fortress…
And if you want to witness all the extraordinary natural beauties that everyone who has visited Croatia talks about at least once, we suggest you visit the beautiful National Parks and Nature Parks, which will delight you with untouched nature and cinematic unreal scenery.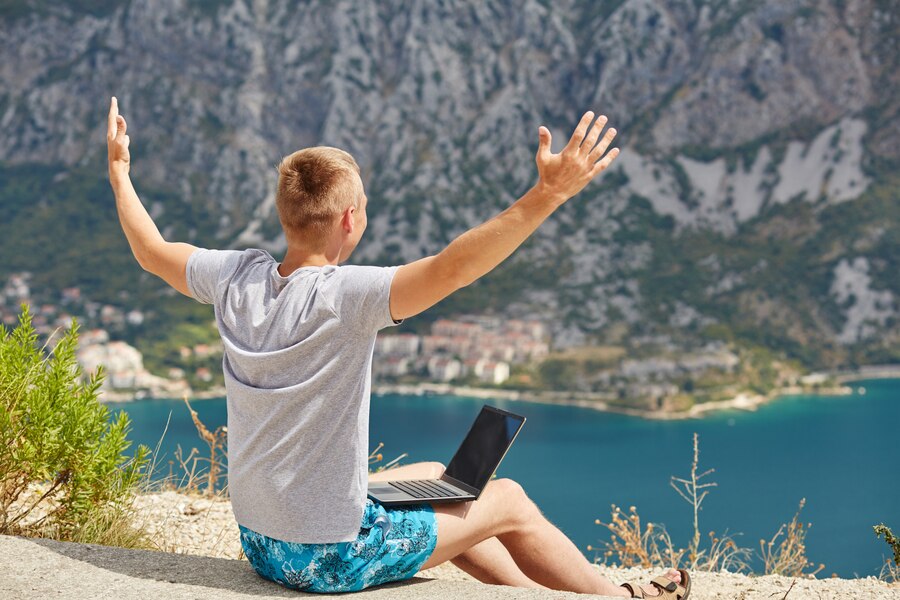 What are the best cities for digital nomads in Croatia?
Split – Split is one of the most beautiful cities in Croatia, and your stay there will certainly be unforgettable. Split is one of the largest cities in Croatia with a rich history and a lot of diverse monuments to see. It offers the possibility of working as digital nomads from various cafes on the beautiful Split Riva, which is certainly the most famous part of Split. If you get tired of big city crowds, just outside of Split there are various islands, small beaches and castles with fewer people and much more peace.
Pula – one of the most visited cities in Istria, a magical region that is also known as the Croatian Tuscany. If you want to experience heaven on earth with beautiful natural beauties and beaches, superb gastronomy and historical monuments and stunning architecture at every turn, Pula is definitely the place for you. Also, lately more work has been done on programs to attract as many digital nomads as possible to this beautiful city.
Zadar – another one of the beautiful cities in Dalmatia, which is also adorned with beautiful architecture, rich history and the blue of the Adriatic. Zadar is still famous for its original sea organ and the most beautiful sunsets. Also in Zadar is the first Croatian "Village for digital nomads" where digital nomads from the area can live and work together.
Zagreb – naturally, the capital of Croatia must also be on this list. All important events in the country take place in the area of Zagreb. Although it is not located in a beautiful location by the sea, Zagreb is also a popular place for digital nomads, considering that the area of Zagreb has the highest concentration of entrepreneurs and "freelancers".
Dubrovnik – one of the most popular cities in all of Croatia, and this popularity can largely be attributed to its impressive walls that surround this beautiful city along with the Adriatic Sea and the fact that part of the "Game of Thrones" series was filmed in this magical city. However, we suggest that you do not visit Dubrovnik during the summer months due to excessive tourist crowds.
We hope that we have resolved all the questions and disagreements you had regarding digital nomads in Croatia, and we definitely suggest that you decide on this unique country as your destination.